Wednesday, June 1st, 2011
Check out the free audio preview to My newest MP3 masterpiece creation "Chastity Mind Control."
I understand that some of you slaves need that extra push when it comes to chastity slavery. In this MP3 I use brainwashing techniques to drive you over the edge and make you send Me the keys to your chastity cage, where I will keep you locked indefinitely. You will be brainwashed into believing you no longer need your cock and that you must surrender all control over to Me.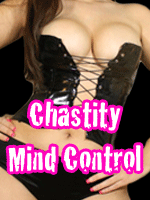 I bet some of you are just sitting there listening to that preview over and over? You're missing on the best parts so make sure you get it on NiteFlirt now!

xoxo Princess Shimmy