Friday, March 25th, 2011
SLAVE UPDATE: So, surprise surprise! Chaste anthony couldn't even make it one week locked for Me in chastity. I think the bitch bit off more than he could chew by accepting My 1 Month Chastity Challenge. I know 95 percent of you wannabe chastity subs are SOFT like pudding so I made a new assignment for you bitches. I modified this next challenge to be only 10 days. Seriously losers, if you can't take 10 days in chastity, what the fuck are you doing with your life other than wanking? Your life and dick is meaningless, so you might as well surrender it to Me. Just ask yourself, where has your little dick got you? The answer is nowhere, bitch! You obviously don't need it anymore. If you're going to try to do something meaningful with your life, you might as well make your life meaningful by trying to please Me.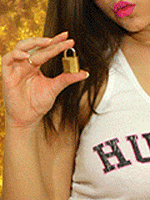 In order to complete this assignment you will need your own chastity device and lock. This assignment also includes 10 pictures for each day of worship and suffering. And obviously there will be absolutely no stroking, but I'm sure you've already figured that part out 😛
I've adopted a new bitch and have decided to bring him under My wing in order to help cure him of his compulsive addiction to masturbation.  My bitch "retardo" (soon to be known as chaste retardo) has submitted his first picture to Me, locked as instructed.  He will be My human psychiatric experiment. 
My theory is that retardo needs prolonged chastity in order to overcome his addiction to masturbation.  It will be interesting, because the bitch has admitted to Me he jerks off like 7 times a day… which is absolutely  demented – seriously.  The bitch needs My help and since I care sooo much about My bitches (haha) he will have the honor of suffering over to Me both financially and phsycially for as long as he is honest and obeys.
Ta-tah for now bitches,
Princess Shimmy