Sunday, December 14th, 2014
Hey puppets, check out My latest NiteFlirt PTV!
Are you having a hard time figuring out if you need your cock or not?  Can't figure out if you need chastity or should try living life as a real man? Let Me tell you how useful your dick is and if you need it or not!
In this PTV I've laid out a series of questions for you to answer and I will give you the cold, hard truth you need to hear about the situation in your pants.   Should you go on living life as a regular man or should you lock yourself up and throw away the key, forever!? Find out now!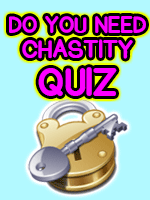 Don't have a NiteFlirt account? Sign up here for 3 minutes free! It's 100% anonymous!
Like the PTV above?  I have literally hundreds more inside of My NiteFlirt PTV Store! Check it out at: www.GoBroke4Shimmy.com
Oh… and always remember boys…
The world is overpopulated enough as is. It's time to stop breeding & start serving! #Femdom #Chastity #TeaseandDenial #Keyholder #Domme

— Chastity Princess (@ChastityDomme) December 14, 2014